— BRANDING —
According to MarketingMO, there are some fundamental concepts to have in mind when choosing a great brand name.
Some may think that it is an easy task – and sometimes is, some names were basically "at the tip of the tongue" but not always and in the majority of the cases an entrepreneur struggles to come up with an amazing brand name.
That's why we decided to make this two-part article about this subject.
Are you ready for the first part?
So, let's continue…
The first part of the article has the following contents:
 Tips
 Examples
Thing to consider
 Checklist
 Naming Key Concepts & Step-by-Step
 Types of Names – Pros and Cons
 How to create great names
1. TIPS
Use the founder or inventor's name
Describe what you do
Describe an experience or image
Take a word out of context
Make up a word
2. EXAMPLES

3. THINGS TO CONSIDER
Check these tasks:
Search for three companies to bid on your project to name your product, service or business;
Million Dollar Question: Are you more likely to call a company with a unique name, an average name, or no name?
Reflect on a great brand name for your company.
The process becomes more challenging since there are millions of businesses around the world, and with this wave of increasingly new small businesses that grow into bigger companies, much do to their excellent branding.
4. CHECKLIST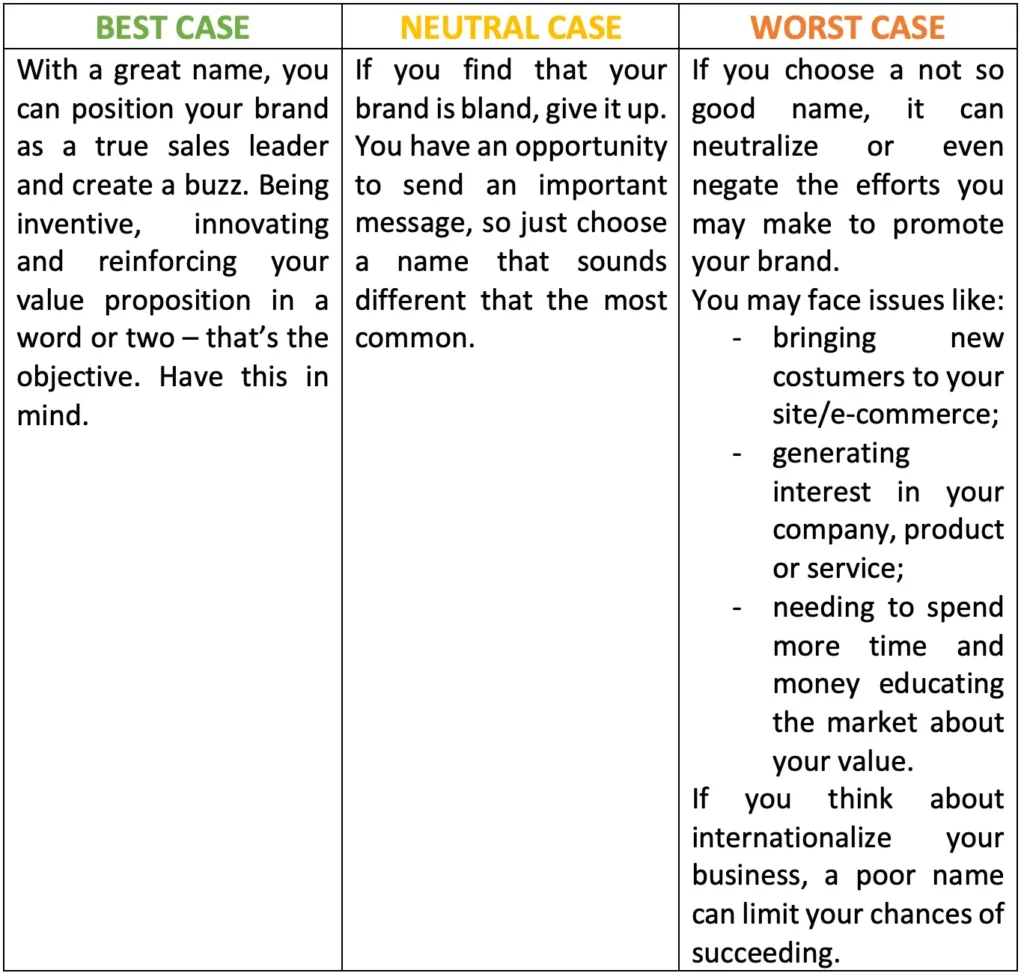 5. NAMING KEY CONCEPTS & STEP-BY-STEP
Before you choose a brand name
Develop a strategy alongside the choosing of the brand name. Thus, everything is aligned.
Do you need to hire?
If you need help to come up with a great name, there's no shame in that! But before you actually hire someone, there are a number of factors to consider:
The stakes: you have to consider the risk and choose if it's worth it;
The confidence in your team's work in every area;
The amount of time and energy you have to devote to the project. Remember "time is money!"
The budget: analyse if in you can afford to bring in a new team member.
DDDD Strategy
-> Determine (what your name needs to accomplish)
-> Decide (how it will work with existing product or service names)
-> Define (what kind of name to develop – descriptive, invented, founder's name, etc.)
-> Develop (objective criteria to evaluate the names you generate)
Potential Name & Alternatives
You can gather some partners, friends and/or family and make a brainstorming session about the name.
Evaluate
The brainstorming sessions are really good to hear different opinions and suggestions, but remember, it's your brand, tour face, your heart, so choose it accordingly to your own values and preferences.
Test, test, test
Sounds good over the phone?
Check as it's not going to be constantly mispronounced or misspelled? (That defeats the purpose of great a name)
It's clear and not confusing?
It's aligned with your desired brand personality?
Has a working URL?
Protect your brand name
Make sure you choose a name that DOES NOT infringes on another company's trademark, because you can get into serious trouble for that.
After naming
Create a logo or corporate identity
Develop your brand story, brand personality and brand messaging
There are some websites where you can find these kinds of solutions.
6. TYPES OF NAMES – PROS AND CONS

DESCRIPTIVE NAMES
It states what the company is, the product/service is or what it does. Example: Toys R Us
(+) Brand positioning that leads the market and makes it easy to the consumer to know what is buying.
(-) Restricts the brand, it makes it difficult to expand the business to other products/services.
ABBREVEATIONS
Example: IBM
(+) Once they're short, they're easy to say and to remember.
(-) Doesn't mean anything by itself, can seem just random letters put together, as if there's no feeling in the name.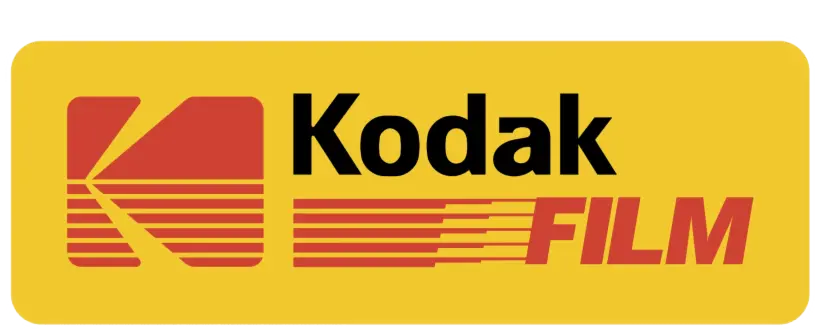 MADE UP NAMES
Example: Kodak
(+) They are unique. They're powerful names, because they were never used before.
(-) The name doesn't have a previous meaning that can sustain the marketing around it.
SUGGESTIVE NAMES
Example: Hotwheels
(+) It helps to create a deeper image with the brand, rather than just stating the products/services that the company has.
(-) If created out of sync with the whole branding, it can damage the company's image.

EXPERIENCES NAMES
Example: Amazon (like the Forest)
(+) Creates an experience about the brand, making a difference in the market.
(-) If not aligned with the brand's purpose, it may lose the strength.
NOUNS
Examples: Walt Disney
(+) If the name sounds good, it's an option that probably won't be matched by the competition.
(-) It doesn't indicate any characteristics of the brand.
7. HOW TO CREATE GREAT NAMES
USE PREFIXES AND WORD SEGMENTS
Ex: Ebay
COMBINE RELEVANT WORDS TO YOUR BUSINESS
Ex: Metlife
MIX UP NAMES
Ex: Mattel "Matt" + "El" (Elliot)
CONCLUSION
With these tips and suggestions, you may be already able to choose a great name for your brand, but if not, do not despair!
Stay tuned for the next article, with the Part 2 of "How to Choose a Great Brand Name"!
If you have any comments on this matter, please write us a message, we'll reply as soon as we can!